Analysis Work
(Scroll Down For Examples Of Our "Troubleshooting" Work)
Mark Rosen, with more than 20 years experience in Mold Filling analysis is a well known expert in this field. He has run 1000's of analysis, taught training classes and authored 13 month series "The Filling Analyst" in Injection Molding Magazine.
The images below show just a few examples of our analysis work.
Trouble Shooting Work
Making the correct decisions to fix problems is vital for getting a program back on schedule and budget. We pride ourselves in our ability to quickly solve product design, tooling and molding problems.
Below are just a few examples of our trouble shooting work.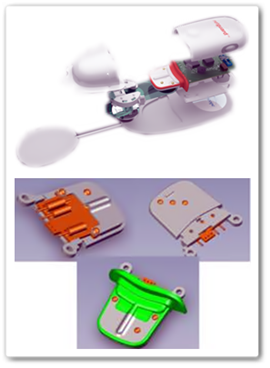 Netguard – Datascope
This portable patient monitoring device was a complicated assembly which required a complete redesign of a key component.
The existing project team consisted of a large design group as well as a international molder.
As the team focused on the other components we redesigned the failed component, ran all required simulations, sourced the tooling and validated the samplings.
This was tricky design which required overmolded an expensive circuit board with both a TPE and rigid thermoplastic. This critical component of the device had exacting tolerances , critical seals and a demanding schedule.
Medical Device – Vasoseal
A medical device was experiencing failures due to a poorly performing snap joint.In addition the relationship with the toolmaker/molder was strained due to schedule pressures.
We were given the assignment to evaluated the design, materials and tooling.
We came up with an entirely new direction where the snap feature was changed to an overmold.
In addition we recommended a more suitable grade of PP for the part.
We were given full responsibility to quickly execute these changes, assist in selecting new vendors and overseeing the sampling.
The over-molded component proved to be vastly stronger than the snap design with far fewer molding and tolerance challenges.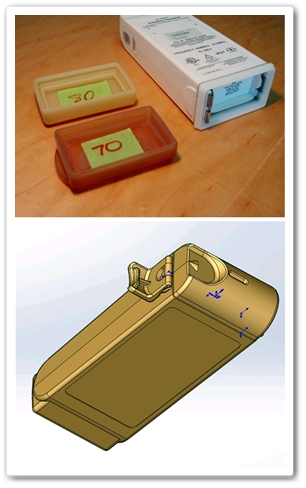 Battery Cover For Portable Patient Monitor
A large medical company was experiencing high return rates due to breakage of a multi-component batter lid.
We were asked to diagnose the cause of failure and make recommendations to fix the problem as quickly as possible.
We evaluated the materials, design and processing and concluded that the cause of failure was due to long term creep along with poor material choice.
Two solutions were proposed – fixing the current design and a new "Tupperware" type single component lid.
Both directions were evaluated and the new Tupperware style lid was greatly preferred by the customers in addition to being far less complicated to manufacture than the existing multi component mechanism.